This is an essay in the truest sense of the word—an attempt.
I felt challenged by three positions taken by our provincial chapter of 2017. It was our second chapter after merging three provinces into one. The first had been an experience in trust-building and an administrative effort to write our province directory. This second one, at the will of the first, was aimed at harvesting the fruit of a year-long discernment process lived in all the province communities and at an assembly of school leaders. It was set—in time and in décor—during the Year of Consecrated Life, whose theme was "Wake up the World."
The first thing that challenged me was what Pope Francis said to those of us in consecrated life: "This is a special time for celebrating the gift of your vocation and for reviving your prophetic mission. Leave your nest, and go out to the peripheries of today's men and women. By allowing yourselves to be encountered by Christ there, the Lord in turn will push you toward an encounter with others, and bring you to those most in need, to the poorest."
Related to that call from the 'pope of the peripheries,' the second thing that struck me was the unanimity and peace surrounding the chapter's vote on what it called a "Core Statement" distilled by the discernment team from the results of the province-wide process. The statement defined clearly the spirituality of the Sacred Heart that the chapter wants to foster among us brothers, lay partners and colleagues, and the young people at the heart of our mission. It reads like an article in the Rule of Life:
The United States Province
is called to be prophetic
by being the compassionate Heart of Jesus.
We live a practical, compassionate love
that compels us to minister to one another
and to those on the periphery,
especially the young.
My third challenge came from how strongly the chapter considered our lay partners to be a singular grace and a multitude of hope for our future. It believed sincerely that God is building the U.S. province into a dynamic and diverse force to promote what some erroneously call "the brothers' mission." Since lay men and women make up the very fabric of the US province network, they are inherent to what we now consider a shared mission.
Those three challenges—graces—ultimately gave me a desire to attempt formulating a "new expression of the spirituality of the Heart of Jesus" in a way that can be meaningful to all: brothers, lay partners in mission, and the young people whose lives touch ours.[1] This attempt endeavors to harmonize the core statement of the chapter with our lived experience over 200 years: the spiritual lives of our institute's founders and early brothers, the laity in our wider communion, our Rule of Life, superiors general, and the pioneers who have shown us what it means to strike out for the periphery and make it into a sanctuary.
After more than a year's work, this expression of our spirituality is only, and always will be, an attempt. And an offering open to correction, completion, and collaboration by you and all who share the mission of the institute to give young people a holistic human formation in the perspective of their eternal destiny.[2]
Please pray with me for increased spiritual desire to attempt to live it in my life.

Brother Bernard Couvillion, SC, United States Province
Bay Saint Louis, Mississippi, January 9, 2019
Feast of Venerable Brother Polycarp +1859
Spiritual Desire
God our Creator,
You breathed into us divine possibilities.
You have always drawn us beyond ourselves
by stoking our heart with pangs of desire—

– when newborn, for the caress of affection
– after our first step, for a firm, safe guiding hand
– beyond home, for reassuring smiles of friendship and
belonging
– as students, for the poise that comes from success and
esteem
– grown up, for a sense of achievement and for the touch of
love sealed by the elation of partaking
in Your act of creation.

Intensify our desire to feed our spiritual lives
and to feel the mystery of your presence deep in our heart.
Impel us to live beyond our own cause and our lesser longings.
Make our province resonate with the movements of your divine Spirit
so that those who need your loving presence and compassion
might discover You made flesh through us.
All this we pray through Jesus Christ, your image, our ideal and our brother. Amen.
Prayer of Longing for God Steve Angrisano: Video
Contemplating Scenes from the Scriptures
Jesus, the Woman, and the Well John 4: 4-26
To get in touch with the pull within the Samaritan woman between spiritual and human desires, first view some videos, then read and contemplate the Gospel story.
The Samaritan Woman animated version
Urban Version
LDS version

In the way Jesus and the woman spoke, I ask God to be present and to listen as I express the ambiguities between my deepest spiritual desires: where I want to grow, peak moments in my spiritual awareness for which I am grateful, what I hope can be renewed deep in my spirit, what spiritual struggles have marked me.

Jacob Wrestling with God Genesis 32: 23-31
liturgical reading with action
Sculpture: Jacob Wrestles through the Night Sir Jacob Epstein — Tate Gallery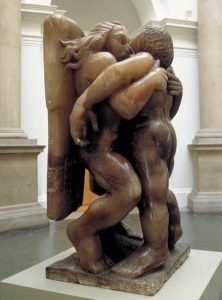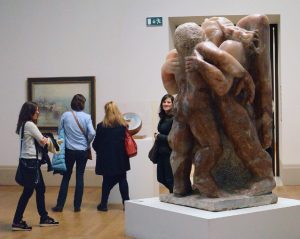 Commentary: The subject of Jacob and the Angel fascinated the sculptor and may have had personal significance, not least because of the fact that Epstein's first name was Jacob. In the carving, the night-long struggle between Jacob and his assailant is translated into a strangely ambiguous embrace between two colossal male figures. Jacob is depicted with his eyes closed and head thrown back; the angel is holding him in a tight grasp, as if squeezing his last breath from him. The Herculean proportions of the figures permitted the sculptor to generalize and balance the relationship of the masses while simultaneously maintaining the impact of their embrace. True to his usual practice in carving, the primary views reflect the mass of the original block, but the interlocked arms also encourage the viewer to move around it.
Reflective reading
The tensions between spiritual longings and human limitations cause us wrestle with God as Jacob, Adam, Abraham, and Jesus did.
Will You Wrestle with God?
Praying the Psalms, the prayers Jesus used to express his desires.
Psalm 42: 1-5 http://www.usccb.org/bible/psalms/42
Psalm 37: 1-7 http://www.usccb.org/bible/psalms/37
Psalm 20 http://www.usccb.org/bible/psalms/20
Listen to Communal Songs of Longing for God
Jesus, Come to Us
The Call (Isabel Davis)
The Human Sciences: Abraham Maslow on Self-Transcendence
Edited from an article by John G. Messerly, an Affiliate Scholar of the Institute for Ethics & Emerging Technologies, reprinted in its online magazine of February 4, 2017.
It is quite true that [we live] by bread alone—when there is no bread. But what happens to [our] desires when there is plenty of bread and when [our bellies are] chronically filled? – Abraham Maslow
What is not well-known is that Maslow amended his view of human desire near the end of his life, and so the conventional portrayal of his hierarchy of needs is inaccurate, as it omits a description of his later thought. In his earlier career, he considered "self-actualization" as the highest human need built into our desires. In his later thinking, he argued that we can experience a higher level of development, what he called self-transcendence, by focusing on some higher goal outside ourselves. Examples include altruism, or spiritual awakening or liberation from egocentricity. Here is how he put it:
Maslow makes a succinct and eloquent statement of the difference between self-actualization and self-transcendence: At the level of self-actualization, the individual works to realize his or her own potential [whereas] at the level of transcendence, the individual's own needs are put aside, to a great extent, in favor of service to others.
Transcendence refers to the very highest and most inclusive or holistic levels of human consciousness, behaving and relating, as ends rather than means, to oneself, to significant others, to human beings in general, to other species, to nature, and to the cosmos. (The Farther Reaches of Human Nature , New York, 1971, p. 269.)
Placing self-transcendence above self-actualization results in a radically different view of what it means to be human. While self-actualization refers to fulfilling our own potential, self-transcendence puts our own needs aside to serve something greater than ourselves. In the process, self-transcenders may have what Maslow called peak experiences, in which they transcend personal concerns. In such mystical, aesthetic, or emotional states one feels intense joy, peace, well-being, and an awareness of ultimate truth and the unity of all things.
Maslow spoke of "peak moments" of transcendence. He also believed that such states aren't always transitory—some people might be able to readily access them. This led him to define another term, "plateau experience." These are more lasting, serene, and cognitive states. In plateau experiences one feels not only ecstasy, but the sadness that comes with realizing that others cannot have similar encounters. While Maslow believed that self-actualized, mature people are those most likely to have these self-transcendent experiences, he also felt that everyone was capable of having them.
Given that Maslow's humanistic psychology emphasized self-actualization and what is right with people, it isn't surprising that his later transpersonal psychology explored extreme wellness or optimal well-being. This took the form of interest in persons who have expanded their normal sense of identity to include the transpersonal, or the underlying unity of all reality. (There is a connection between his transpersonal psychology and the mystical and meditative traditions of the world's religions.)
Finally, Maslow's conclusion that self-transcendence is the highest level of psychological development reminds me of the thinking of Victor Frankl, in Man's Search for Meaning,one of the most profound books ever written. Frankl states: "… the true meaning of life is to be found in the world rather than within [our own] psyche … Self-actualization is not a possible aim at all; for the simple reason that the more we would strive for it, the more we would miss it. Only to the extent to which we commit ourselves to the fulfillment of our life's meaning, to this extent we also actualize ourselves. In other words, self-actualization cannot be attained if it is made an end in itself, but only as a side-effect of self-transcendence.
Listening and Mutual Support
In groups or pairs, we exchange about
— the provincial chapter's call to the renewal of the province's spirituality
— tensions we experience between spiritual desire for transcendence and the pressures of daily life
— our readings and prayer..
Footnotes:
[1] cf. Resolution 15 of the provincial chapter of 2017
[2] Rule of Life 149