Deciding whether to embark

—Do I really want to go?
At this point, we have to ask ourselves, "Do I really want invest energy and prayer to join in a long journey to develop a province spirituality?" We've been poring over maps found in the Rule of Life
and in the stories of real people committed to a practical mission. The ship hasn't sailed yet; it's still in port. We're figuratively still at Paradis in 1846 with everybody else, holding in our hands Brother Polycarp's letter of invitation to embark on a mission to America. In it he makes no bones about portraying how difficult the voyage and resulting change of life will be: "Let us probe our hearts and dispositions. … Let us see if and to what extent we are willing to sacrifice our comforts, freedom, health, strength, even life itself, for so noble a cause."[1]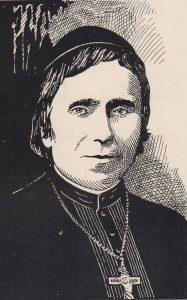 Before we go any further, we need to do what Brother Polycarp did with the brothers. He asked them individually whether they wanted to embark. Do we want to jump aboard for this spiritual voyage? In place of Brother Polycarp's letter, what we have in hand is a call from the provincial council in the name of the province chapter. It repeats Pope Francis' summons to the periphery. Answering the provincial council's call will involve embracing a common spirituality with colleagues, accompanying them, and living it out in a way that makes us God's earthly presence to persons who until now have inhabited only the margins of our lives.
Saying Yes
Saying Yes will involve new ways of praying, of doing ministry, of dealing with doubt, of thinking about others, and about trusting God. We each have to decide whether we want to invest or not. It has to be a free choice. There may be many reasons to say, "No, my boat is berthed, my anchor's cast. I've looked at the map and heard the stories, but I can't. It's just not me." We could say, "I'm just not a very spiritual person. … I'm too old … of another faith … ."
On the other hand, there are also many reasons to give it more thought. The passengers on the Zamzam represented nearly a dozen faiths and had a wide spectrum of motives for signing the ship's manifest. These questions might help your discernment:
— When have you ever had a surprise insight that deep down in you there's intriguing spiritual energy that's part of your make-up? … that, mixed in with your doubts and convictions, there's more depth to you than you give yourself credit for?
— When have you ever ended a particularly hectic few months by saying to yourself, "It's crazy that I let myself get this busy! There's got to be a way to slow down. I can't keep up this restless pace! It's burning me out."
— When, after feeling that spiritual practices like prayer, church, sermons, and retreats are repetitious and numbing, have you ever told yourself, "This can't be the way it's supposed to be." Or "Maybe I'm doing it wrong or perhaps somebody who taught me was misguided."
— When have you felt a moment when your heart went out to someone suffering an insult or acute need, or someone starved for attention, or to a cause crying out for help, but you let the feeling pass and moved on? When, on the other hand, have you responded and felt right about it?
Surprises, questions, doubts, feelings, and sudden insights or spontaneous gestures make up the richness of our spiritual life. How we weigh them and respond to them defines our spirituality.
There are some very good and noble reasons to stay open to saying Yes.
Nonetheless, there are some questionable spiritualties that we need to reject with a definitive No.
No to a spirituality of illusion

When Pope Francis concluded the 2015 worldwide gathering of 270 Catholic bishops who deliberated on difficult issues of family life, he warned against a temptation among the bishops to practice a "spirituality of illusion" that ignores people's struggles or sees things only as we wish them to be. "A faith that does not know how to root itself in the life of people remains arid and, rather than oases, creates other deserts," he said.
The illusion occurs when "we are able to walk with the People of God, but we already have our schedule for their journey, where everything is listed. We know where to go and how long it will take; we expect others to respect our rhythm. Their problems are a bother to us. We run the risk of becoming like the crowd in the Gospel who shush and block the blind man Bartimaeus from telling Jesus of his problem. Jesus, on the other hand, wants above all to reach Bartimaeus, consigned to the fringes."[2]
No to a spirituality of aesthetics

In today's Church, there is a generation of churchgoers and clergy who equate spirituality with the practice of sacramental correctness or with nostalgia for traditional worship that surrounds us in heavenly mystery. In this spirituality, it's not grace unless it comes through formal sacraments or stained glass windows. It makes aesthetics – music, art, incense, décor, ritual – central.
It seems this has always been a danger. John Chrysostom identified it as early as the 4th century. He asked his priests, "You want to honor the body of Christ? Don't despise him when he is naked. Don't honor him in your church with silk vestments while you leave him outside suffering from the cold and lacking clothes. Honor Christ the way he himself wants to be honored. What is the point of setting his table with golden vessels while he himself is dying of hunger? Remind yourself that Christ is really going around like a stranger with no place to call home while you are embellishing floors, walls and columns in his name. You are attaching lamps with golden chains and you don't want to see that he is chained up in prison. When you decorate your churches, don't forget your least brother in distress, for that temple is worth more than the other."[3]
No to a spirituality by proxy

For too long we've considered spirituality something we relegate to the brothers, to pastors, or other church professionals. "It's part of their vocation," we assume. "They assure the spiritual dimension in their houses at times of prayer." Although that attitude may be born of respect and trust toward the brothers and the clergy, it was clearly not the intention of Father Coindre when he planted the original seed of our spirituality. He sowed it freely so it could be shared by persons of all vocations. Besides the group of priests with whom he formed a traveling team to give parish missions, he gathered around himself businessmen, women active in parish social work, blacksmiths, and colleagues of all ages and vocations.
Among his first pastoral intuitions was to gather a group of twenty-four young ladies who devoted themselves generously as disciples of the Sacred Heart of Jesus to the corporal and spiritual works of mercy and to the "sanctification of self and of others." He served as their guide and joined in their conversations about their spiritual lives.[4]
To found his first sanctuary for neglected boys, Andre relied on lay men, professionals and civic leaders on the one hand and competent craftsmen in the silk industry on the other. The foundation of the brothers didn't come until three years later. And he asked the brothers to serve under the direction of a lay board. He formed these lay leaders, in his own words, to "propagate sound doctrines and encourage religious fervor and probity among the working class while giving glory to God and salvation to neighbor."[5]
His attention to the spiritual formation of laity did not stop with adults. He formed the boys themselves, both in the prisons he visited and in the sanctuary he founded, to "offer prayer addressed each day to heaven." Through the diverse staff he put together, he nurtured "with the utmost zeal and concern the love of religion within the minds and hearts of the pupils."[6]
We cannot expect the brothers or designated campus ministers and religion teachers to act as our proxies in prayer and spiritual life. All of us are called to the same common spirituality, no matter what our individual vocation might be: single, married, ordained, brother, sister, or student.
As Pope Francis said to pilgrims gathered in St. Peter's Square, "Holiness is a gift that is offered to all, without exception, so that it is part of being Christian. All are called to holiness in their own state of life. It is by living with love and offering Christian witness in our daily tasks that we are called to become saints. Always and everywhere you can become a saint, that is, by being receptive to the grace that is working in you and leading to holiness."[7]
Response to Brother Polycarp
So Brother Polycarp's question remains, "Will I offer my name to take part in the voyage which is our common spirituality of the Heart of Christ?" The response to that question requires a thoughtful and prayerful effort at discernment.
4
Paradis— Do I want to go? Will I go?
Discernment whether or not to embark
The grace I seek …
Lord how many times have I heard a call like Brother Polycarp's to go far away from what I call home or a challenge from a general or provincial chapter asking me to join in a common endeavor that would do violence to my default routine?
How many times have I defended myself from those calls? Hold me back from doing it again. Slow me down to give this decision the consideration it deserves because it ultimately comes from you. Send your Spirit over me to temper my indifference with honest discernment like yours in the desert.
Setting the tone
 Listen to and meditate on The Summons by John Bell
       One of the most important intentional communities of the 20th and 21st centuries is Scotland's Iona Community.
      Founded on the remote Island of Iona in far western Scotland, the community traces its inspiration back to the 6th century, when St. Columba found his way from Ireland and established an outpost from which he evangelized all of Scotland. Eventually, he spread a Celtic form of Christianity that still resonates strongly today.
MacLeod (1895-1991), an iconoclastic spirit, left a popular parish in Glasgow and established the Community in the 1930s to train ministers in engaging the poor working-class people of Glasgow and also in working alongside artisans to rebuild the abandoned Benedictine Abbey on the Island of Iona.
John Bell (b. 1949) grew up in Kilmarnock, a rural town south of Glasgow. He received degrees in arts and theology from the University in Glasgow. He was ordained by the Church of Scotland in 1978 and appointed youth coordinator for the Presbytery of Glasgow.
In 1980 he was admitted to membership of the Iona Community, having applied not primarily because it was a place of liturgical innovation but because it was "a place where the potentials of the socially marginalized as well as the socially successful would be attested."
Since then he has become the international troubadour of the Community, guiding its publications in worship and music, preaching at conferences around the world and composing many songs that enumerate the themes of the Community.
This is perhaps the most famous of Mr. Bell's hymns. The hymn appeared initially in the first collection of music produced by the Wild Goose Worship Group, Heaven Shall Not Wait: Songs of Creation, the Incarnation, and the Life of Jesus (1987). The song asks a series of 13 questions, perhaps a record in the annals of hymnody.
Characteristic of Mr. Bell's style, the text is prophetic, using many words not usually found in traditional hymns. "The Summons" of Christ is to a radical Christianity. We are challenged to "leave yourself behind" and to "risk the hostile stare" (stanza two), "set the prisoner free" and "kiss the leper clean" (stanza three), and "use the faith you've found to reshape the world around" (stanza four).
The tune is a traditional Scottish ballad entitled KELVINGROVE, named after a section of Glasgow. Mr. Bell often uses traditional melodies from Ireland, Scotland and England for his hymns. These tried and true tunes make the songs not only singable, but often provide a Celtic flavor. Mr. Bell, the purpose for singing is to engage people in a fuller participation in the congregation's song, stretch their faith and encourage them to live in a manner that reflects justice.
© 1987 The Iona Community (Scotland), admin. by GIA Publications, Inc. All rights reserved. Used by permission. Dr. Hawn is professor of sacred music at Perkins School of Theology. 
To listen:
Will you come and follow me if I but call your name?
Will you go where you don't know and never be the same?
Will you let my love be shown? Will you let my name be known,
will you let my life be grown in you and you in me?
Will you leave yourself behind if I but call your name?
Will you care for cruel and kind and never be the same?
Will you risk the hostile stare should your life attract or scare?
Will you let me answer prayer in you and you in me?
Will you let the blinded see if I but call your name?
Will you set the prisoners free and never be the same?
Will you kiss the leper clean and do such as this unseen,
and admit to what I mean in you and you in me?
Will you love the "you" you hide if I but call your name?
Will you quell the fear inside and never be the same?
Will you use the faith you've found to reshape the world around,
through my sight and touch and sound in you and you in me?
Lord your summons echoes true when you but call my name.
Let me turn and follow you and never be the same.
In Your company I'll go where Your love and footsteps show.
Thus I'll move and live and grow in you and you in me.

Expressing Doubts: The Saint that is Just Me by Danielle Rose

Gospel passages
These stories ask for a Yes or a No in a climate of freedom. Re-read one or two of the familiar passages listed below. Click the link under them to read noteworthy commentaries.
Mark 10: 17-22  A man searching
Pope Benedict https://zenit.org/articles/pope-s-world-youth-day-message/
[scroll down for the Pope's message]
Matthew 21: 28-32  Two sons
http://ocarm.org/en/content/lectio/lectio-divina-matthew-2128-32
[scroll down to paragraph 2) ]
Luke 19: 1-10  The tax collector Zachaeus
https://zenit.org/articles/angelus-address-on-zacchaeus-the-tax-collector/
Matthew 9: 9-13 Call of Matthew
https://w2.vatican.va/content/francesco/en/cotidie/2013/documents/papa-francesco-cotidie_20130705_mercy-remembrance.html
John 6: 41-69  Do you also want to leave?
https://cacina.wordpress.com/category/christianity/page/85/

Discernment Process
To start discernment in a thoughtful way, undertake a "force-field analysis" around the statement "I willingly accept the provincial council's invitation to embark with province colleagues on the search to deepen the spiritual life of the province."
Before making a decision or a change, the force field is in equilibrium between forces favorable to the decision and those resisting it. First there is a beginning equilibrium that is the status quo.
There is tension within me about changing. For change to happen, the status quo, or beginning equilibrium must be upset – either by adding conditions favorable to the change or by reducing resisting forces.
We name the forces on the Yes side and on the No side. Then, to show how strong each force, we give it either more weight and heft, or a number from 1 (low) to 5 (high).
Whenever driving forces become stronger than restraining forces, our status quo or equilibrium will change.
The naming and weighting helps us to put the decision in the full context of our life.
There will always be driving forces that make change attractive to us, and restraining forces that work to keep things as they are.
If we want to say Yes to the central statement, we need to strengthen the driving forces or weaken the restraining forces. Only if either or both can be done, we can honestly say Yes to embarking on developing the spiritual life of the province.


Reflective reading, "Lay Sanctity" by Monika Hellwig
      You can't throw truth at people so that all they can do is duck.
       —Monika K. Hellwig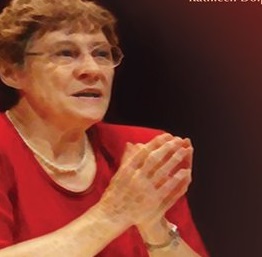 Though Monika Hellwig is well known in theological circles, what is not so widely known is how theology led her into a whole new way of life. Refugees from the Nazis, Monika and her two sisters were sent as children to live in Great Britain with an academic couple who provided them with a loving home and an excellent education. At the Catholic University of America, systematic theology and scriptural studies enlarged her intellectual horizon. That experience, together with the Second Vatican Council's emphasis on the imperative of the lay vocation, altered the course of her life. She left the convent and enthusiastically embraced her baptismal calling. Everything that followed—her academic work and writing, her masterful teaching within and outside the academy, her adopting three children as a single mother, her sense of responsibility to her parish and to several prayer groups—reflects her intentional living out of the lay vocation until the moment of her death in 2005.
          If many Catholics today feel that the sacramental life has little to say to family hopes, fears and questions, but runs on a separate and not too relevant track, this is probably due to a gradual process of distancing of the liturgy from the laity through history. The distinction between clergy and laity was by no means always as sharp as it is today. We have lived through a long period of language distance in the celebration, which has only partly been overcome. We have been through centuries of estrangement from the symbols and imagery that constitute the sacramental actions. From being full participants in the liturgy as our own action in Christ, expressing a reality of our lives, we became spectators only, or even anonymous attenders at an invisible ceremony so that bells had to be rung to inform us what was happening.
          The awareness of all this has overwhelmed us in this century. Vatican II endorsed a very thorough new look at what we are as Church and what that means for the way we should worship. The task of re-examining our church life in the light of scripture and tradition and in the context of the societies in which we now live is one that is still largely ahead of us so many years after Vatican II. What seems to be coming to the fore in our present experience of crisis and renewal in the Church is a certain self-assertion of the laity as laity, the laity as families, the laity in terms of complex patterns of relationship that are the very stuff of the redemption, because they are the situations in which the world and its history are being structured either as the city of God which is charity and true community or as the city of self which is bullying, manipulation and destruction.
          In our present world it is clear that the ordinary and continuing sacrament of salvation must be the family. In the early ages of the Church, Christians did not list their sacraments as seven and make a very sharp distinction between what is effected by those seven and what happens in the rest of life. They appear to have lived in a more sacramental context. That is to say, by their immersion in the life of the Risen Christ in his community of followers, the ordinary activities of Christians were seen and felt as speaking of God and bringing God's healing power into the world.
           What we Christian lay persons today are rediscovering with excitement and joy in ever great numbers is that God is present to us in the ordinary circumstances of our lives. We feel the urge to do what Jacob did in the times of the patriarchs: put up stones in the desert as markers of the memory, the hope, the new vision and sense of lay identity and community. This is not a flight from the Church but a new pilgrimage into the Church. The many lay initiatives growing out of family experiences are a new effort to reintegrate the totality of human experience within the fidelity of God's covenant in Christ. We can only hope and pray that they will be recognized as such and not seen as a threat to the clerical sacramental system.
Listening and Mutual Support
In groups or pairs, we listen as others talk about what insights, desires, and discernment help them to make a decision to embark on the search for a province spirituality.
Footnotes
[1] Workbook 2, p. 57
[2] Oct. 4-25, 2015 Synod of Bishops
[3] cf. Homily on the Gospel of Matthew (Hom. 50, 3-4, PG 58, 508-509
[4] Andre Coindre: Writings and Documents Volume 4, Pieuse Union (Rome, 2004)
[5] AC: W&D 3, Pieux-Secours (Rome, 2002)
[6] Ibid. p. 30
[7] General Address to Pilgrims in Rome, November 19, 2014